EZWEBORDERS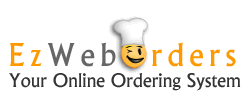 EzWebOrders is a Cloud Based solution. It is an Online Ordering System for Restaurants and Pizza Shops. A flexible eCommerce solution that powers a custom Online Store for each client. The online store can be connected to an existing website, or it can act as your primary website as well as your online shop.
Orders are forwarded to the merchant via email and fax so the merchant does not require any computer or similar hardware on the premises. The restaurant processes the orders through their existing payment gateway as they would any other incoming order.
The service is provided as a managed and hosted solution, requiring little or no interaction from the merchant though provided with the ability to fully manage the online store. Through the EzWebOrders Control Panel, the store owner can add, delete or modify items, descriptions, prices, generate coupons, send emails to clients, generate reports and more.
This enables progressive scaling and allows multiple distributions of industry-specific online stores at a greatly reduced total cost of ownership for the client.
An EzWebOrders Online Store adds a new revenue center. This revenue center is controlled entirely by the owner without added licensing fees, sales commissions or equipment rental fees. It also includes a powerful self-building customer database the owner can use for marketing.
LEVELING THE FIELD
EzWebOrders provides independent and regional chain restaurant operators with an online ordering system that rivals that of the biggest players in the industry. The merchant is provided with almost full control over the administration of content on their online store. They have direct access to the information that matters to them so they can make better financial planning decisions. They have the ability to easily and instantly modify pricing, items, descriptions and other information displayed on their online store without the need of a third party. The merchant can use the system's email feature to send promotions or special messages to all of their clients with a single click, at NO additional cost! That is a great marketing tool in itself.
The merchant can even quickly create ecoupons to entice more customers and promote loyalty. These can easily be used in tandem with am offline marketing campaign for greater potential returns.
You can find out more by visiting https://ezweborders.com/merchant